Assisted Living
The care is "exceptional." The people are "extraordinary."
– A Resident at the Assisted Living residence.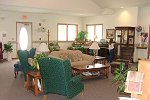 For seniors needing assistance with activities of daily living, Senior Living Choices at Curtis offers residential Assisted Living Suites. Our specially designed location offers a thoughtful architectural layout specially planned to promote a unique home-like environment for assisted living. You won't see a long hallway in sight or anything that hints at an institutional atmosphere at Senior Living Choices at Curtis.
Assisted Living Apartment Amenities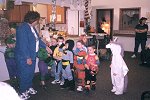 We offer charming studio suites and spacious one bedroom assisted living apartments all with private baths and well designed kitchenettes complete with refrigerators and microwave. These apartments can be furnished with your own special furniture and possessions or we also offer furnished units. All assisted living apartments come with free cable, Internet access and all utilities (except telephone). Our senior friendly building also offers intercom call assistance, unique waist level gardens, wheel chair and walker accessibility.
Services & Activities
At Senior Living Choices at Curtis we take pride in offering high quality senior services to all our residents. From our award wining home cooked meals with fresh baked pies and bread in our inviting dining room to our professional trained senior staff ready and willing to offer assistance, care and help with activities of daily living - we are here to help create a home like atmosphere.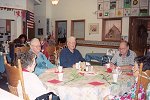 At our location we also offer ongoing health services such as weekly exercise programs, podiatrist services, scheduled transposition and medication monitoring. Our goal is to provide quality services to all our residents so they can have a stress-free assisted living lifestyle. As part of this support service we also offer short-term respite care after illness, surgery or aging issues. As an aside we are also available for Respite Care for family members who are the primary caregiver of a senior. Respite care to the community is available dependent on availability of assisted living suites.
Senior Living Choices at Curtis continually promotes the social and entertainment activities on location and in the town of Curtis. At our building we have educational programs, musical entertainment, arts and crafts, bingo, intergenerational activities and so much more. We truly do work to make life fun and interesting for our residents.
Our Mission:
To Provide quality services to seniors in rural communities who desire family style living in a home like environment.
Call us today for more information:
Senior Living Choices at Curtis
Curtis, Nebraska
308-367-4259